Bleckmann's flexible capacity and full-scope logistics expertise have been essential in supporting our global growth strategy. Their omnichannel solutions offer the scalable and flexible capacity we need to deliver on our values of safety, quality, and customer care, allowing us to gain efficiency while reducing costs. We look forward to continuing our fruitful collaboration with Bleckmann.
Who is 4kraft?
Across its two consumer brands – Kinderkraft and Kiddy – 4kraft sells a wide range of high-quality, innovative products for babies and children. With strong year-on-year sales growth and an expanding international customer base, it now offers its uniquely designed strollers, toys, furniture, safety devices, and other products across Europe, Asia, Africa, South America and the US. 4kraft mainly sells via e-commerce channels and traditional sales channels.
In line with the company's commitment to promoting child development, it also has an active partnership with UNICEF Poland, providing educational opportunities for children in Mozambique affected by cyclones.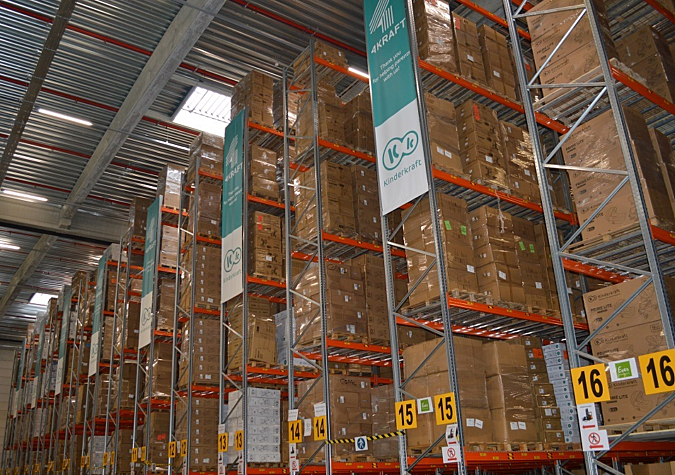 How do we support them?
Bleckmann's full-scope logistics support and omnichannel expertise are ideally suited to meeting the needs of 4kraft's growing customer base in their largest markets, which include France, the Netherlands, Belgium, and Germany. We ensure that 4kraft can continue its impressive growth trajectory while maintaining the high standards of quality and service its customers expect, thanks to, among others, the following capabilities:
A network of multi-user warehouses offering flexible capacity and smart integration. The process was made even easier thanks to our Warehouse Management System (WMS), which was seamlessly integrated with 4kraft's own systems.
A unique 'Local Hero' fulfilment network: a multi-carrier concept offering optimised deliveries for our clients' shipments across Europe and internationally. Flexibility features such as late carrier pickup ensure an optimal service level for 4kraft's customers.
Advanced reverse logistics capabilities: our end-to-end returns handling process for Direct-to-Consumer channels, from receipt through grading to quality control – for an enhanced customer experience.
Freight forwarding from China to Europe, including full tracking visibility and customs handling at the destination.
Quality checking at warehouses to ensure optimal box condition for all products.
What were the results?
Bleckmann has been 4kraft's strategic logistics partner since 2015. All processes and operations were designed and implemented in such a way as to offer maximum use of space, easily accommodate heavy and non-standard product shapes and sizes, reduce costs and offer an optimal service level. Thanks to our scalable logistics solutions and high levels of flexibility, we ensure that 4kraft can keep delivering on its promises as it expands globally.
Flexibility
Scalability
Wide network of carriers across Europe
Growing with your needs
With the ambition to expand beyond Europe to become a top-five global brand in the baby and child category within five years, 4kraft shows no signs of slowing down on its journey to revitalise the segment.
And with our wide range of tailored capabilities, Bleckmann will continue providing flexible and scalable omnichannel logistics solutions to support the company's growth strategy every step of the way!
Looking for the right-fit logistics partner?
Contact our experts and learn how we enable our clients' business growth