A complete range of warehousing services
Warehousing design & development
New warehouse design or redesign of existing operations
Order fulfilment
Complete order processing, pick and pack, sorting, labelling, documentation and order tracking
Inventory management
Receipt and storage of goods, regular, seasonal and one-off inventory management
Bonded warehousing
Warehousing for C and E type customs license and import- and export administration
Cross-dock
Storage and transhipment, shipment tracking
Deconsolidation & reconsolidation
Deconsolidation of arriving shipments, reconsolidation as required
A full grip on your inventory
To optimally serve your customers, you precisely want to know the availability of your products and where they are at any given time. You also need to be able to move stock as required between various physical locations and sales channels.
Our inventory management, tracking, and reporting expertise optimise your stock. The best in class WMS (Warehouse Management System) is seamlessly integrated with your systems together with other systems and tools we use to help you maximise stock accuracy.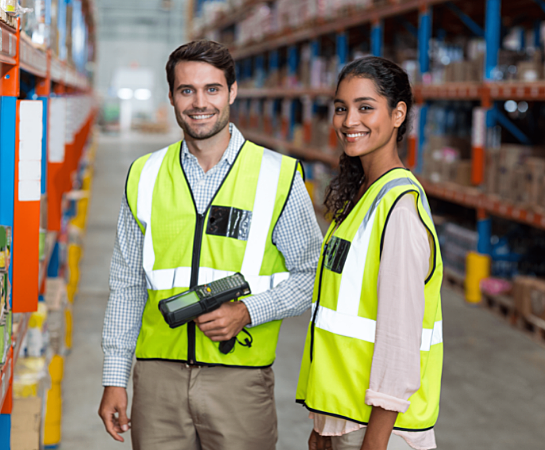 First-time-right implementation
A launch of new logistics operations needs to go fast and according to plan. A smooth launch, however, is not a given. When things are not managed well, it can be a real headage for the company. The right expertise, experience and mindset are needed.
At Bleckmann, we apply the first-time-right principle when implementing our clients' operations, ensuring we go live smoothly, on time and within budget. We have developed a proven methodology for new project implementation, based on our long-term logistics and project management experience, with the utmost focus on our clients' needs.
Facts about Bleckmann logistics centres
We have decades of experience and expertise in warehousing, further growing our capabilities and scope. We keep up with current developments in the industry while investing in new sites reflecting and anticipating our clients' business growth.
900k
sq m of storage space
300m
items processed every year
Lounge has every ambition of becoming that largest underwear brand in the world and see Bleckmann as an integral part in this journey.
Fulfilment centres where you need them
Our distribution centres are spread across the Netherlands, Belgium and the United Kingdom, even with a local presence in the United States. The latest technology and techniques combined with our logistics expertise enable us to quickly and easily accommodate your changing business needs, fluctuations in volumes or market expansion. We continue to grow and expand our footprint, offering over 900k sq m of storage space.
Our sites are typically located in logistics hubspots, strategically positioned near main airports, ports, roads and close to your sales markets, offering you maximal flexibility in terms of space availability and geographies.